Soundtracks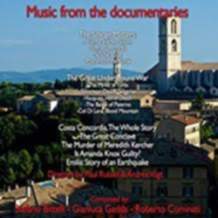 SPOTI FY

In questa raccolta di Ala Bianca group srl sono assieme a Maurizio Cominati e Gianluca Gadda per una serie di musiche per documentari prodotta da Millstream films and media.

Qui troviamo le musiche dei documentari CONCORDIA-THE WHOLE STORY sul naufragio della Concordia di Capitan Schettino, andato in onda su Discovery World/ Focus Tv.
THE GREAT CONCLAVE sull'elezione di Papa Francesco e la serie SALVAGE MASTERS (Grandi Naufragi) in onda su Der Spiegel Tv, VIA SAT (Scandinavia ), Discovery World/ Focus Tv.
IS AMANDA KNOX GUILTY ? , documentario sul delitto di Perugia andato in onda su BBC 3 e successivamente in tutto il mondo sui maggiori network .
THE GREAT UNDERGROUND WAR ( La grande guerra sommersa) , THE VIKINGS (Vichinghi) LETHAL CARGO, VOLCANOES, VENICE -THE WHOLE STORY, HEAVY LIFT (Grandi costruzioni), e COLOSSEUM-THE WHOLE STORY oltre ai nuovi episodi della III serie SALVAGE MASTERS.